Shoe Donation
Comfeet footcare clinic in association with The Rotary Club of Barbados South was able to further help the needy due to the generous donation of 100 pairs of shoes with a retail value of US$15,000 from Yaleet Inc.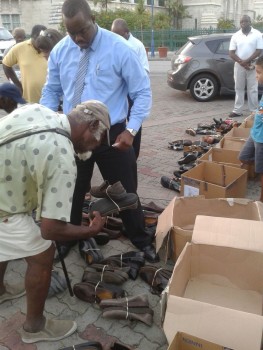 Because of this joint program some of our local needy persons were not only treated to their usual feeding program but the ability to have a further spring in their step due to this generous donation.
The Rotary Club of Barbados South in association with the other local Rotary clubs has been feeding the needy on the last Monday of the month for many years and jumped at this opportunity to further help them when they were approached by Mrs Simone McConnie Podiatrist and retailer of the Naot line of footwear.   She said that Naot had a reputation of giving back to society and on a whim she thought it would be a wonderful suggestion to help others by giving such a donation.   This donation was suppose to be a Christmas blessing but due to some logistics with shipping and others issues it had to be postponed.  She said that giving at this time of year was still a wonderful and fulfilling feeling.  Often footwear is looked upon as negligible and valued in our local market as an accessory and luxury however, over the years footwear has become a necessity.  If today we were to think of leaving home every day without a pair of shoes I am sure many of us will not leave home.  She mentioned that she had many patients that just because they may have to wear an orthopaedic shoe (usually deemed less attractive) due to a foot problem, they may even stop going to church and some of their usual activities until they were able to balance it with a more fashionable shoe.  Given the high incidence of Diabetes she also suggested that it was necessary for these individuals to always be protected with appropriately fitting shoes and was happy to assist with the fitting of some of the needy who revealed they had underlying diabetes.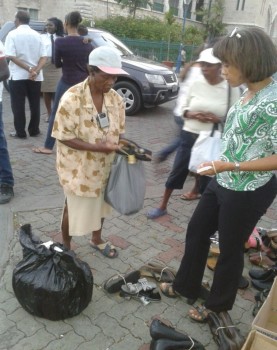 She also took the opportunity to congratulate the Naot brand for tipping the scales balancing orthopaedic with style to the extent that they actually made it onto the catwalks last season and were a feature in the popular movie "Hunger games".  She was honoured to be able to represent such a company locally.  As food maybe seen as a greater need, she admitted to having mixed feelings, about the welcome that these persons would have had, regarding receiving footwear, especially this type of footwear.  However, everyone that participated in the handing out of footwear was very warmed by the smiling faces and dancing feet that were seen after some of these individuals were adorned with footwear.
She saw that this donation although delayed came at a good time as it fell on the cusp of World Foot Health Awareness Month, celebrated throughout the month of May.  She invites everyone to remember that your feet count.  Painful feet mean something is wrong, and if you are diabetic you may not know you have painful feet so look at them every day.    She joins Rotary Barbados in reminding persons about the importance of looking after their pair as it is the only one you get.  Rotary Club of Barbados South is also actively involved in supporting our local diabetic foot training programme and appeals to all to look after their feet.  Feet and Podiatrist are taken for granted but after today I am warmed to see the appreciation of the footwear donation.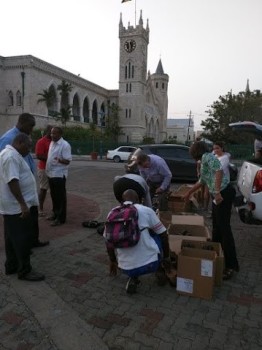 She thanks Naot represented by Yaleet Inc. for their generous donation and for being such a wonderful partner.  She also extends her gratitude to the local shippers, Ministry of Health and local Customs and Excise department for all their assistance in being able to bring such joy to these persons.  She will also like to thank The Rotary Club of Barbados South for assisting with the execution of this generous donation.  Remember Think feet look after your feet.